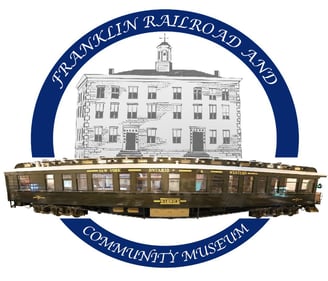 The The Oneida tribe of Iroquois Indians first used the land. The first white settler came to Franklin in 1784 and settled in Bartlett Hallow.
In 1787 Nathan Edgerton settled and started the village where it is presently located. He created the first businesses and encouraged other settlers to locate in Franklin.
​Industry centered mostly around agriculture- hog and sheep farms. Dairy farming became an important industry after the Civil War.
The Catskill Turnpike was established in 1800 which started in Catskill and went to Wattles Ferry (Unadilla) by way of Franklin. Along the turnpike, there were toll gates in which travelers had to pay five cents for every mile they traveled. This brought many travelers by foot and stagecoach to Franklin for overnight accommodations. With the establishment of The Catskill Turnpike, this brought along the establishment of more taverns inns and hotels in Franklin. These also served as social gathering spots for the residents of Franklin.
Delaware Literary Institute established in 1835 was an important part of the life in Franklin. Not only for its excellence in education but for revenue for stores and the community social life centered on DLI.
​In 1869, there was a fire in a room over the clothing store of Abram and J.C. Bush on Main Street. Also, in the building were Stilson and Borst Hardware and Bartlett Sign Shop. The fire continued down the street burning the Douglas and Stilson Hardware store, the Chamberlin Brothers Drug, Book and Jewelry Store, the Post Office, Hines Photography Studio, and several other businesses. As soon as the debris from the fire was removed in 1869, this structure was built of local bricks and trimmed with cast iron. Great care was taken to reduce the risk of another fire.
​After the creation of DLI, the village of Franklin enter a period of growth and prosperity. By 1880 there were 40 businesses located in Franklin. Businesses included stores for dry goods, hardware, furniture, groceries, drugs, jewelry. Professional offices included doctors, dentists, and lawyers. Skilled craft persons were numerous also: cabinet makers, carriage makers, printers and publishers, tailors, shoemakers, coopers, and many others. Some of these businesses included a doctor's office, dentist office, bank, jeweler, a newspaper/printing office, insurance, marble works, creameries, grocery stores, millinery and clothing stores, and many others. As travel to larger commercial centers became easier and the decision of the railroad to bypass the village of Franklin the business district declined.
​After the turn of the century, Franklin became a much quieter village with less industry but maintained its charm with well-kept houses and yards. Farming has continued but it is not to the same scale as it was. DLI has now become Franklin Central School and is the largest employer and is the center of most community activities. Franklin has continued to have a quality education with a graduation rate of over 90%. Today the businesses of Franklin have increased. This includes a doctor's office, insurance agency, eye care, theater group, multiple restaurants, and others.
Since 1984 Franklin has been recognized as part of the New York State and National Register of Historic Sites.​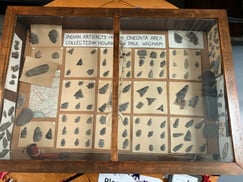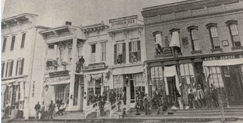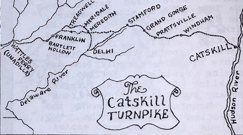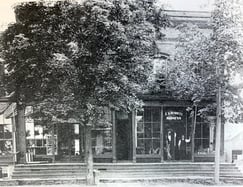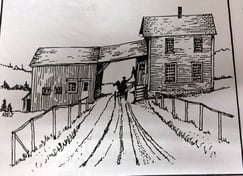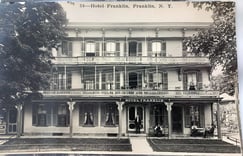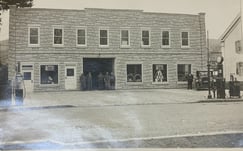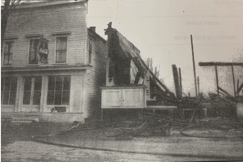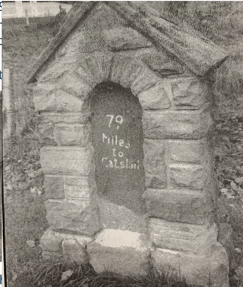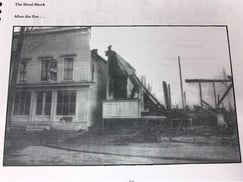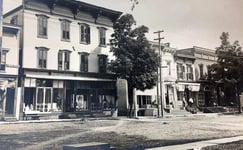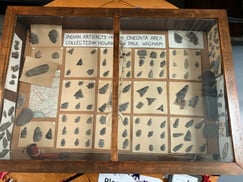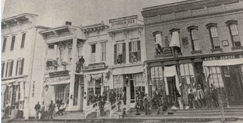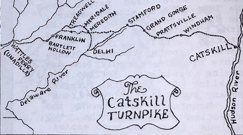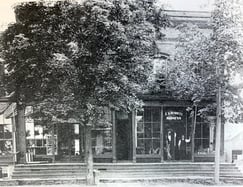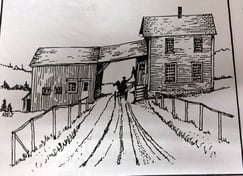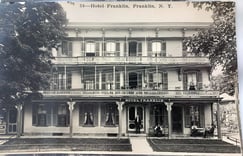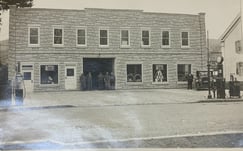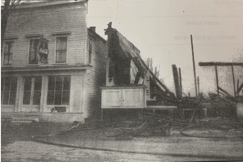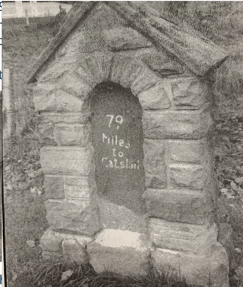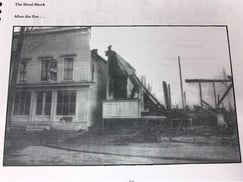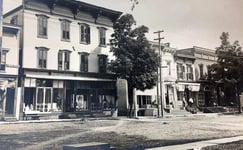 Beginning as early as 1795, Franklin was separated into 26 different school districts. Each of these districts had one-room schoolhouses, which were also used for meetings, religious services, and even funerals. Each of these school districts operated independently of each other.
In 1825, there were four one-room schoolhouses within the vicinity of the village of Franklin. One of these schools was attended by as many as eighty students. In 1833, Reverend Daniel Waterbury helped promote a school of higher learning in Franklin. In the next few years, Waterbury and other residents of Franklin were able to establish a school, Delaware Literary Institute.
On November 28, 1836, the first Stone Hall was completed. In its first year, the school had an enrollment of 45 men and women. Tuition for individual classes ranged from three to seven dollars per quarter and room rent was one dollar per quarter. By 1855, enrollment was 409 students. This included individuals from thirty states and territories and six foreign countries. With the popularity of the school increasing, housing became an issue and the Ladies Hall was begun in 1851 and completed the next year for $3,000. The third building, Chapel Hall, was started in 1854. Although being demolished during construction by a wind storm the building was completed. March 9th, 1856, a fire destroyed the original Stone Hall, but with money pledged by residents of Franklin and insurance money, a "new" Stone Hall was built and still stands to this day.
The rules for attending DLI were very strict. For example, students were required to study in their rooms after 7 pm, but they were allowed to relax from 9 to 9:30 pm each evening. Male students could visit Ladies only between four and seven and it had to be in the public parlors. No students could visit a billiard parlor or a saloon, play cards, drink, use tobacco, or indulge in profane language. Students were also expected to attend devotions at a village church twice on the Sabbath. If any of these rules were broken the student could expect to be expelled.
E.C. Fraternity was founded in 1844 and continued even after DLI became a central school. This is the oldest high school fraternity in the country. Alpha Phi Society was formed in 1849 and the Independent Society in 1854. For young ladies, there was the Excelsior Society formed in 1849, the Aurora Society and Waterburian Society formed in 1854. The TTC Society was formed in 1908.
Graduation-week activities drew a huge crowd. Each day a parade was sponsored by a different organization or society as well as debates, plays, and orations by students.
During the Civil War period, attendance at DLI would be cut dramatically as young men were called to war rather than to teaching or the pulpit. Also, the railroad's decision to bypass Franklin would make it difficult to attract new students. In 1887, Frank Arnold, a Republican lawyer from Unadilla, introduced a bill in the State Assembly calling for the construction of a normal school in Oneonta at a cost of $45,000. People from Delhi to Norwich argued that the school should be located in Franklin. Despite all the opposition, however, the bill was passed and on July 17, 1888 ground was broken in Oneonta. It was completed in August 1889 and today is known as SUNY Oneonta. This would be a telling blow to the future of DLI.
In 1891, an effort was made to increase enrollment at DLI by adding a Business College, but unfortunately, the endowment was withdrawn. Attendance at the school continued to drop reaching an all-time low in the 1890s with only 142 students enrolled. Academies in many areas had already closed, but Franklin resisted the school's end.
In 1897 an editorial appeared in The Dairymen calling for DLI to be changed to a Union Free School.
In a final attempt to save the school, a military discipline was added in 1898 that included 40 uniformed men, equipped with rifles, who drilled for 40 minutes each morning. Finally, in April of 1902, Franklin agreed for DLI to become a Union Free School. The institute's board of directors decided to tear down Chapel Hall because of the high maintenance cost. The Masonic Lodge offered to buy the building for one dollar. Soon after the board transferred titles for Stone Hall and Ladies Hall and the corresponding land to District #10. Finally, in 1922, the board transferred all money to the Union Free School to be used as prizes. The Union Free School would exist for twenty-seven years. In this time the high school curriculum expanded and advancements were made in the methods of education. This advancement caused the school's facilities to become inadequate to meet the State Education Department. In 1928, the department directed the Franklin Village District to make plans for providing facilities that would meet state requirements.
In June 1929, 13 of the 26 school districts in Franklin joined together to form one of the first central school districts in Delaware County. Soon after two other districts would join the thirteen others.
In the original building plans, approved by the voters, it called for remodeling and an addition to Stone Hall. These plans are on display in the museum. This proposal proved to be too expensive. In January 1930, voters approved a second plan to build a new structure where Ladies Hall used to stand. A $215,000 bond was approved. Voters approved the name Delaware Literary Institute and Franklin Central School at its 1930 annual meeting. The first basketball game in the new gym took place on January 30, 1931, and on March 5, 1931, classes began. School enrollment was 328. The new facility made it possible to add many new classes to the curriculum including art, music, business, agriculture, and homemaking. Stone Hall was closed after seventy-four years of continuous use.
By 1948, it was necessary to bring Stone Hall back into service after an extensive renovation to accommodate the industrial arts shop. As attendance continued to rise, on April 9, 1953, the district voters approved a proposition for an addition to the school not to exceed $185,000.
In the early morning of March 26, 1969, flames raced through the second floor of the school. It took fire companies from Franklin, Walton, Unadilla, Sidney, Sidney Center, Treadwell, Oneonta, and Otego to put out the fire. When all was done 11 classrooms and 2 offices were destroyed. Other parts of the school suffered severe smoke and water damage. The State Education Department urged the district to consolidate its high school with the Unatego School District. The citizens of Franklin vehemently rejected the idea. "We'd rather fight than consolidate" was scribbled on a blackboard. For days after the fire, townspeople, children, and school officials worked continuously to clean up the area. The Senior Class of 1970 donated $1700 to buy books instead of going on their senior trip to Washington D.C. Throughout the community, churches, houses and businesses were turned into makeshift classrooms for the 504 students, while repairs were made to the school. After two years of repairs and renovations that totaled $752,136.61, the building was rededicated on October 31, 1971.
In the seventies and early eighties, enrollment declined but then increased again. The increase in enrollment and an increase in state-mandated programs caused the school to become overcrowded. This called for addition which would include a new gymnasium, an updated girl's locker room, six new classrooms, and a new kitchen. This renovation also made it possible to move the library from Stone Hall back to the main building. Initially, in 1987, the building project proposal was rejected, but a year and a half later it was passed with the largest voter turnout in school history. The voters approved a 2.25 million dollar bond for the major expansion. Ground was broken on June 11, 1989, with the entire school in attendance, and by September 1991, students occupied the new facilities. In the design for the new gymnasium, they intended to not have any pillars, something that made it very difficult to see in the old gym, but the new gym was built with pillars just like the old one.
Today, Franklin continues to take pride in its education system past and present. The school continues to honor its past by continuing to use the name, Franklin Central School and Delaware Literary Institute, but also looks forward to improving the learning environment for its students. From 2018-2020, Franklin has updated many of its facilities, both indoor and outdoors. Franklin has always taken pride in its education system and will continue into the future.